Yes, summer in the UK may be coming to an end but it doesn't mean we have to take a break from ALL the Summer Essentials patterns. The Fleet Top is a great year-round staple, with its simple boxy shape and fabric flexibility (it works in both wovens and knits) – it would look great in autumn paired with some wool Portobellos and a Richmond blazer, or tucked into a Camden skirt or Kew expansion pencil skirt. To inspire you to make the most of this handy basic, I've outlined some hack ideas below (some of which were directly inspired by customer makes!). If you're someone who likes to hack your patterns then a simple starting point such as Fleet is a really useful addition to your pattern collection.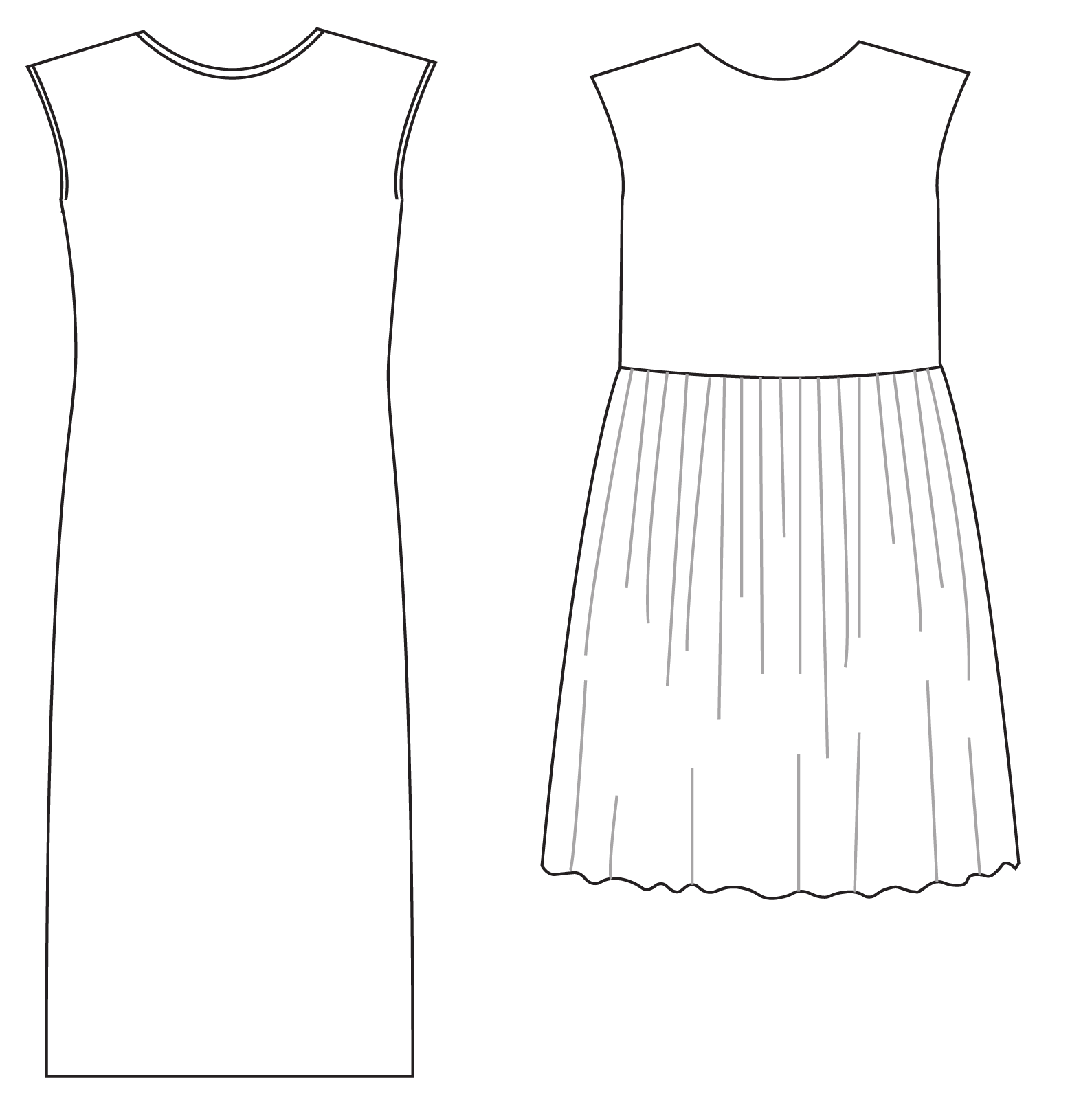 Fleet dresses – how about it? I've suggested two different routes to turning Fleet into a dress here – the first really for knit fabrics and the second for either. If you simply extend Fleet downwards you can make a really fab jersey maxi – you might want to shape it in slightly at the waist as in this illustration or you might want to leave it loose, or belt it in. Maybe add some side slits at the bottom for ease of walking. This would suit a slightly firmer jersey so it doesn't get saggy – a cotton jersey in a stripe would be so chic! But if something slightly dressier is more your style, why not add a gathered skirt to Fleet? As the top is designed to hit slightly below the natural waist you may want to shorten it slightly before adding the skirt. An easy way to create the skirt is simply to measure the waistline of your Fleet top and make your skirt panel(s) double that measurement. This will create an easy boxy outline in keeping with the relaxed feel of the top. Why not add some big patch pockets to finish? I'm super keen to make myself one for the autumn/winter, to pair with opaque tights, boots and a big old cosy cardi…

When it comes to Fleet top variations, well the list is almost endless. I've picked out here six of my favourite ideas. First up, pin tucks. I've actually made a Fleet top with pin tucks for my mum – I made them so tiny I didn't need to adjust the pattern at all, but you could of course make larger pleats, in which case I'd recommend cutting and spreading your pattern pieces to add in the excess that will end up in the pleats. Either way is a lovely way to turn a very simple top into something a little bit more special, with very little effort.
Frills are still all over the high street this season and would look adorable added to Fleet's armscye – you could add an even frill all the way around, or taper it down to the underarm – either one would look cute! As would colour-blocking – this is a great way to use up small amounts of leftover fabric. You could colour block or print block, and decide where you want the boundary to hit. The pattern is your canvas!

Add a button-band, real or faux, and accessorise with some truly stunning buttons. This is the perfect excuse to use those amazing porcelain buttons you've had hanging about for ages, or to mix up and use a selection of odd ones – and you could add the buttons to the front or back – either would work equally well.
Add a collar – a simple Peter Pan collar is easy to draft but you could almost certainly adapt an existing pattern if you needed. This is another Fleet hack I'm dying to try myself – I think it would be perfect for my occasional office days when paired with the Kew pencil skirt for a touch of retro chic.
Add a peplum – this look would be perfect worn with shorts on a breezy summer day (ok, I know I said we're thinking about how to use Fleet year-round, but I can't get an image of this out of my head!) but equally fabulous made of something luxurious (velvet, even lace) and worn with skinny jeans for a winter date. You could make a flippy peplum, or a gathered one, and make it as long or short as you like. And why not combine it with another option – or combine any of the options for that matter? A peplum top with frill sleeves? The Peter Pan collar with a button band down the back? A colour-blocked maxi dress? Like I said – endless options, people! And to finish, here are a few customer hacks to just ramp up those inspiration levels to 10:
Just let me know if you'd like a post with proper instructions for any of these hacks and I'll do my best to make that happen. I'll also be sure to write detailed posts when I get around to making some of them for myself!
Nina x