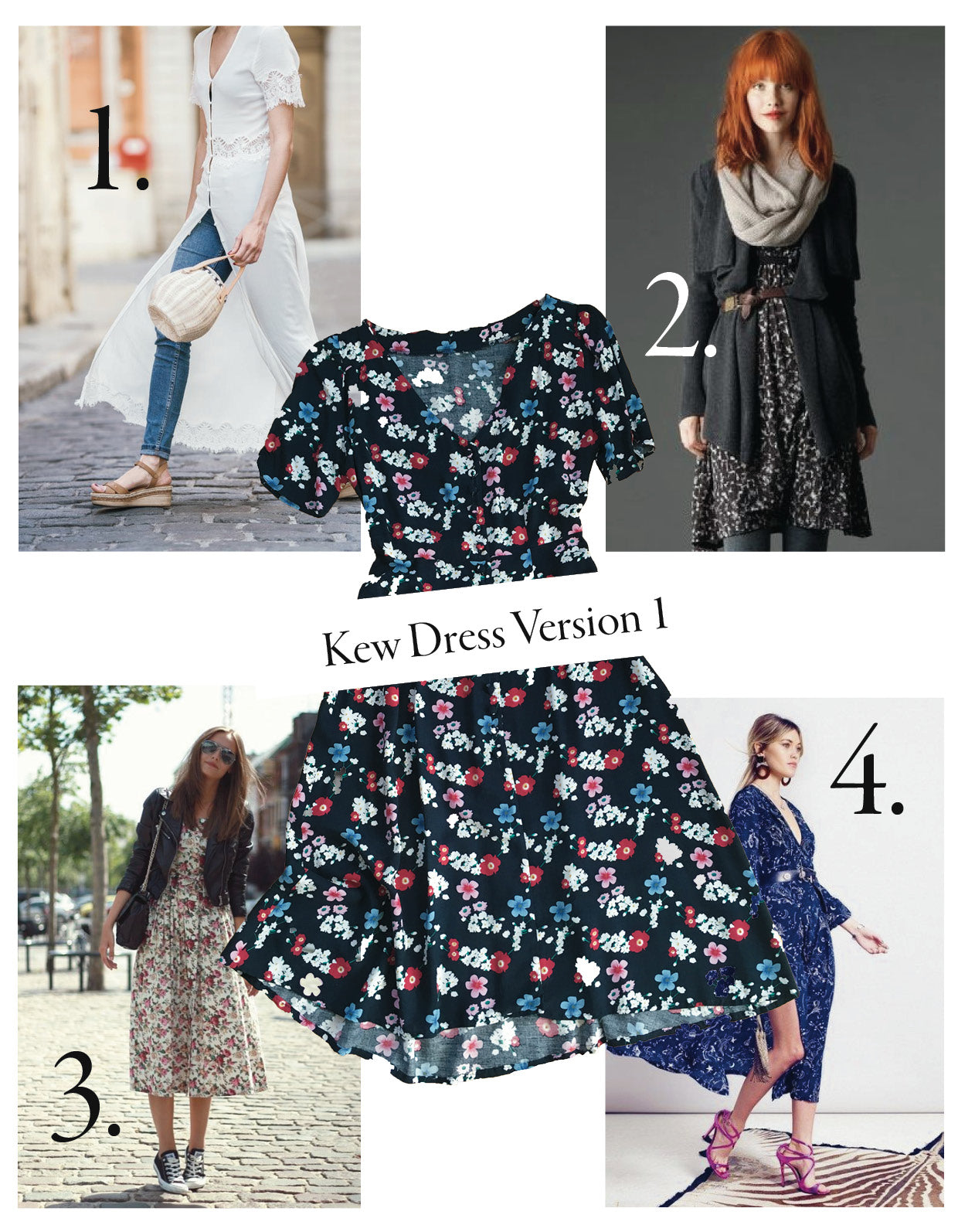 So it's that time of year again – Me Made May! I've noticed a lot of participants this year taking their pledges in a very thoughtful direction – pledging to bring out their less-worn me-mades or to dispose of (responsibly) anything that they can't find a way to wear over the course of the month. It's hardly surprising with May following hard on the heels of Fashion Revolution week, and moreover a couple of movements have popped up on Instagram spurring us on in this direction: Lizzie B has started #sewistswearitagain to try and encourage us to revisit our neglected me-mades and Shauni has launched #sewingleftovers, a campaign to find productive uses for those endless fabric scraps.
Keeping this in mind (and approaching my first Me Made May where I've a healthy stable of my own designs to draw on), I thought I would share some different ways of styling my patterns for maximum wear-age! Today I'm focusing on the Kew Dress, version 1. This is a really easy dress to style up and down but below I'm going into a bit of detail about four specific outfits you could create, and suggesting some other patterns and accessories you could bring into play.
---
1. Dress over jeans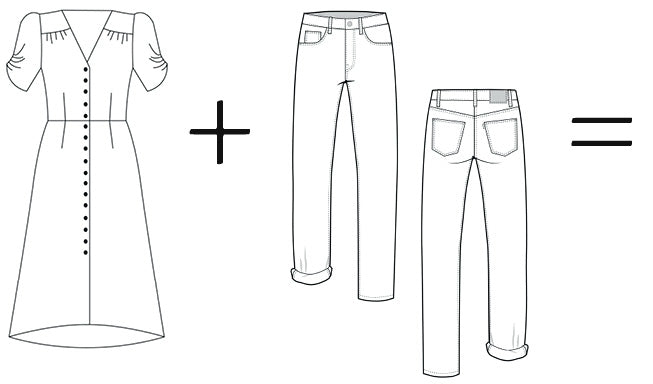 Some of us remember this the first time around, back in the early noughties, but this time the dresses are flouncier, the jeans rougher. It's a great way to tone down a flirty dress and heels; you'll want a straight-legged pair of jeans with a hint of utility about them (frayed hems, turned-up cuffs). The Morgan Jeans from Closet Case Files would be a great option. Then pair with low slingbacks and bam! you're on trend 🙂

---
2. Librarian chic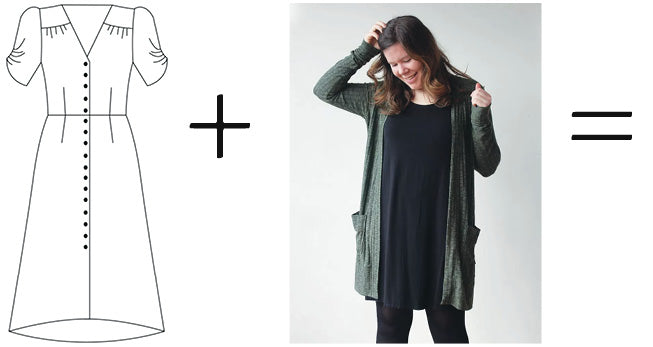 This look embraces the vintage tea dress elements of the Kew and is perfect for taking the dress into cooler weather as it's all about layers. Pop a camisole underneath and a long cardigan over the top – the Blackwood from Helen's Closet, or the Grainline Driftless Cardigan – maybe adding some knitted fingerless gloves, warm tights and brogues. If you're worried about shapelessness, a narrow belt will define the waist.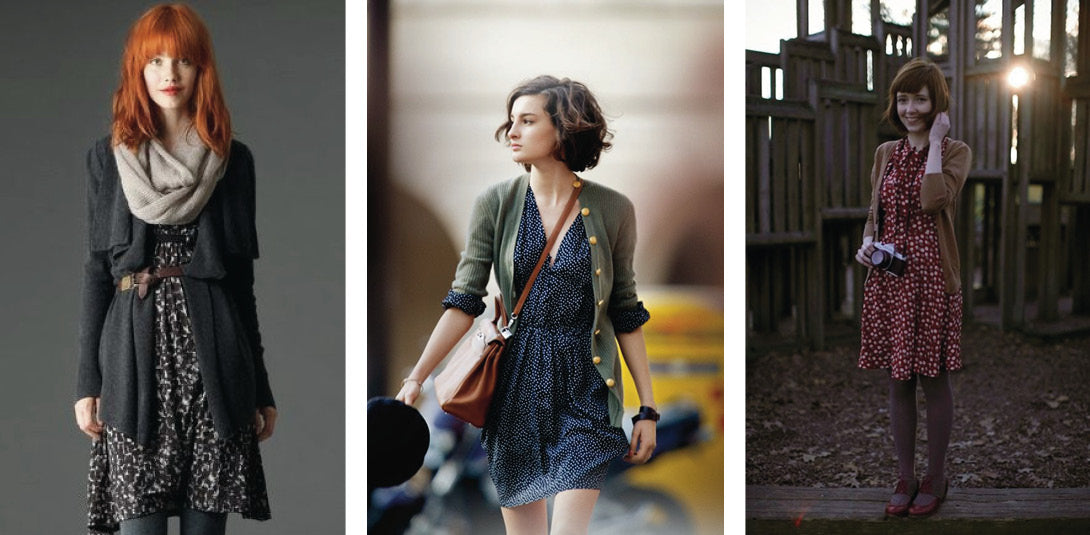 ---
3. Picnic with friends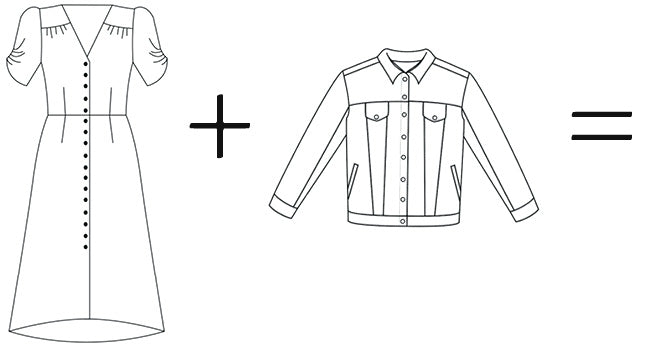 The easiest thing in the world – throw over a classic denim or leather jacket (the Seamwork Audrey, or the Named Maisa), pair with plimsoles or trainers (chunky is good right now – treat your soles) and you're good to go. The great thing about the mid-length skirt on the Kew dress is you can spread it out beneath you like your very own picnic blanket…

---
4. Evening Drinks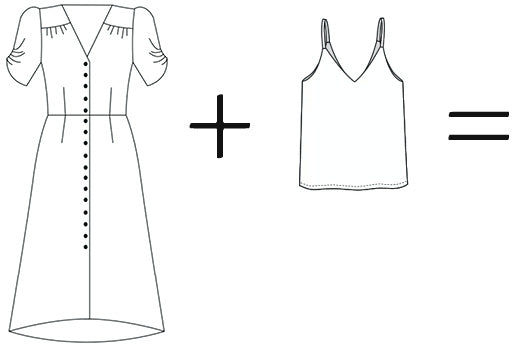 Throw off that denim jacket, swap the trainers for statement heels and you're perfectly party prepped. The Kew is cut quite low at the front so you could accentuate that with a lace slip or cami underneath (e.g. a lace-trimmed True Bias Ogden). Undo a couple of buttons at the bottom of the skirt to create more movement and drama (and leg-flashing, if you want!).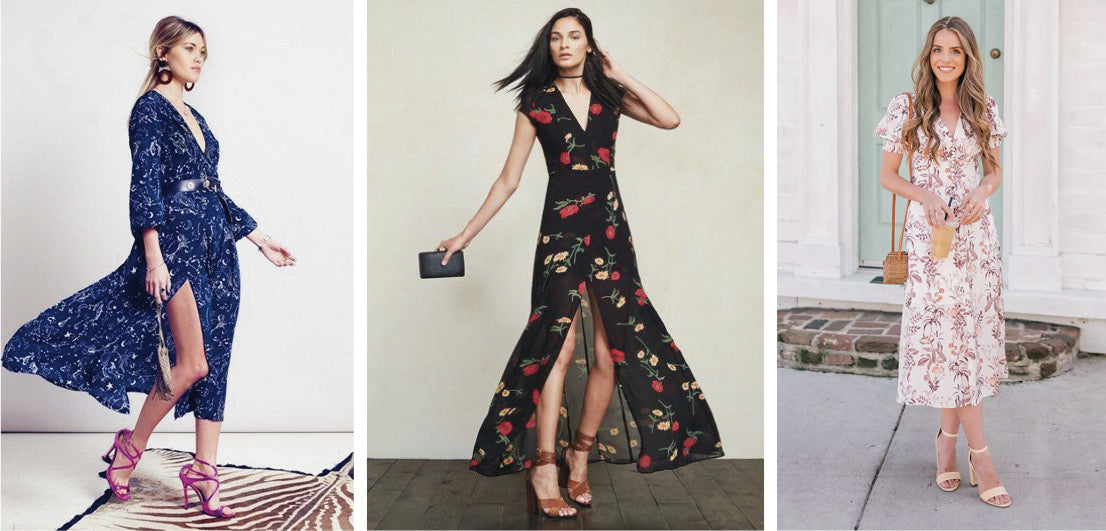 ---
Have you made a Kew dress, and if so, would you consider styling it as any of the above? I'm really keen to try mine over jeans as that's a look that's well outside of my comfort zone, and that's at the heart of what I'm trying to do this Me Made May – push myself to get more out of my clothes, not just more wear, but more creativity! I hope you found this inspiring; I'm planning to do more posts with other patterns over the month so if there's anything in particular you'd like to see (accessories suggestions? more pattern combos?) let me know! x