Hello there, have you seen my latest release and first ever pattern expansion pack? Yep, last week I released the Kew Dress Expansion Pack and it is designed to give you maximum mileage from fabulous Kew. It features two new skirt alternatives: a gathered skirt and a pencil skirt. These can be mixed and matched with either bodice option or simply made as skirts on their own. Bring on all the new Kews!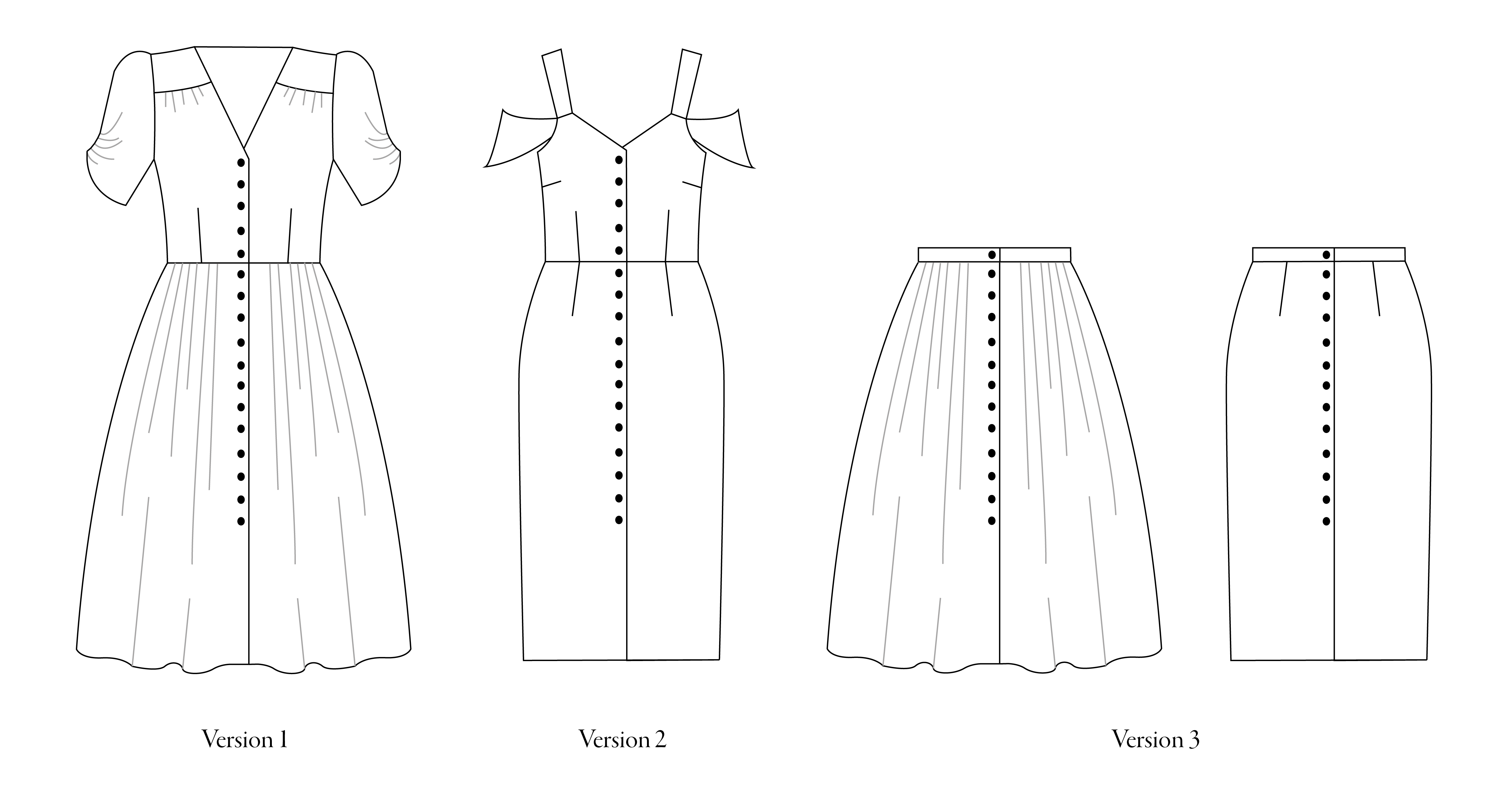 So today I thought I would share some inspiration images for the variations now on offer and some gorgeous fabrics you could use!
Summer Vintage
The Kew dress has a distinctly vintage feel to it in all its variations, and there's nothing like a '40s- or '50s-inspired summer dress to showcase a lovely print! Whether you go ditsy tea dress or bold sun dress there are prints a-plenty out there in buttery cotton lawns or breezy rayons…
Holiday Heat
Whether you're headed to warmer climes this August or simply staying to swelter at home, Kew can keep you cool! Linens, linen blends and rayons are again a good bet; striped choices look classically chic. With the gathered skirt option you could also omit the bodice darts to create a looser waist hanging free from your body.
Autumn Calling…
A Kew is for life, not just for summer – and with these added options your autumn wardrobe should be getting some stylish new additions! Use heavier weight fabrics such as faux suede, denim or corduroy to create an easy layering look, or softer crepes, tencel or wool in warm shades to have a gathered skirt you can bury chilly hands in!
Put a twist on it!
There are so many more hacks and adaptations you could create with Kew. A belt to cinch in the waist above your gathered skirt, or to add drama to a sleek pencil silhouette. Embrace the continuing trend for frills by adding a gathered ruffle. Whack on some giant patch pockets.  Or if you've got the machine for it, experiment with stitches to create a dainty scalloped edge down the front edge (you'd need to stitch the button band in place first, and then create the scallops).
The expansion pack broadens your starting point but options beyond (and the fabric choices) are endless – I just can't wait to see what you create! Have you got any plans for a new Kew?
Nina x